Dolphin Readers Level 2 Matt's Mistake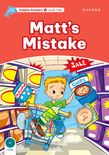 Dolphin Readers Level 2 Matt's Mistake
Graded 'read and do' fiction and non-fiction readers that teach children about the world around them.
ISBN:

978-0-19-440097-8

Pages:

28

Binding: Paperback
Dimensions: 210x148 mm
Dolphins are interactive graded readers specially designed to make developing language skills fun for younger learners.

Full-colour illustrations and cross-curricular content stimulate students' interest and maintain their attention, while carefully graded English introduces them to new language points in an entertaining context.

Integrated activities for every page of story text encourage students to practise newly acquired language skills.
Attractive full-colour illustrations and photographs.
Integrated activities on every double-page spread.
Audio CDs (American English) for all titles.
Notes for teachers and parents included in every reader.
Teacher's Handbook available.
Separate Activity Books available.
With a variety of stories and topics, as well as a range of interactive tasks in each book, Dolphin readers make it easy for you to introduce young students to reading in English in an entertaining and supported way.

Each full-colour book covers one of four themes: Grammar, Living Together, The World Around Us, and Science and Nature.

The themes are carefully chosen to respond to cross-curricular requirements, and the language reinforces what is taught in primary coursebooks. This means that students are exposed to new language points in a natural and interesting context.

Every page of reading has an accompanying page of interactive activities which help students to become comfortable with the new language they have encountered. They also encourage students to develop critical-thinking skills.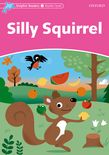 Learn more about the world in English with 'read and do' Dolphins