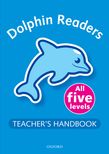 Hello
You can visit our worldwide website for our globally available teaching resources, or visit our local website for for products, events and materials for your area.
Please choose below:
Dolphin Readers Teacher's Handbook
Rebecca Brooke, Fiona Kenshole, Christine Lindop, Jacqueline Martin, Richard Northcott, Mary Rose, Norma Shapiro, Di Taylor, and Craig Wright
Series Editor: Craig Wright
Dolphins are interactive graded readers specially designed to make developing language skills fun for younger learners.

Full-colour illustrations and cross-curricular content stimulate students' interest and maintain their attention, while carefully graded English introduces them to new language points in an entertaining context.

Integrated activities for every page of story text encourage students to practise newly acquired language skills.
Book
Teacher's Handbook
Activity Books
Audio CDs
Dolphins Pack
Activities for every page of reading
Full-colour illustrations and photographs
Picture dictionary in every book
Notes for teachers and parents in each book
Audio for every book (American English)
With a variety of stories and topics, as well as a range of interactive tasks in each book, Dolphin readers make it easy for you to introduce young students to reading in English in an entertaining and supported way.

Each full-colour book covers one of four themes: Grammar, Living Together, The World Around Us, and Science and Nature.

The themes are carefully chosen to respond to cross-curricular requirements, and the language reinforces what is taught in primary coursebooks. This means that students are exposed to new language points in a natural and interesting context.

Every page of reading has an accompanying page of interactive activities which help students to become comfortable with the new language they have encountered. They also encourage students to develop critical-thinking skills.
Reading is a valuable learning tool and can greatly help your young learners practise, reinforce and improve their language skills but it can be difficult to use reading in the classroom.
How can I get my students to read?, How can I make reading a classroom activity?, and how can I be sure they understand what they've read?
are common questions teachers ask and we're here to help with the Oxford Big Read Junior. These short, simple, and practical tips will help you get all of your young learners reading and using what they have read in group work and short projects. We also have easy ways for parents to help support their children's reading. Students get excited about reading, your whole class gets involved and you know they've understood what they've read. Join the Oxford Teachers' Club for free and the
Oxford Big Read Junior
will help you get your whole class reading.
For Dolphin Readers Teacher's Handbook
(1)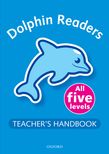 Teacher's Handbook
978-0-19-440221-7
Graded 'read and do' fiction and non-fiction readers that teach children about t...