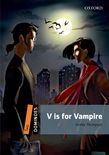 Hello
You can visit our worldwide website for our globally available teaching resources, or visit our local website for for products, events and materials for your area.
Please choose below:
Second Edition
Bill Bowler and Sue Parminter
Five-level graded readers series, perfect for reading practice and language skills development at upper-primary and lower-secondary levels.
Dominoes is a full-colour, interactive readers series that offers students a fun reading experience while building their language skills. With integrated activities and on-page glossaries the new edition of the series makes reading motivating for learners. Each reader is carefully graded to ensure each student reads from the right level from the very beginning.
Carefully graded, beautifully illustrated stories
Integrated activities to develop reading skills and increase active vocabulary
Seven pages of grammar activities in every book
Two personalized projects in every book
The structured approach to reading in English
Dominoes is an enjoyable series of illustrated classic and modern stories in five carefully graded language stages - from Quick Starter to Three - which takes learners from beginner to intermediate level.
Each Domino reader includes:
A good story to read and enjoy.
Integrated activities to develop reading skills and increase active vocabulary.
Personalised projects to make the language and story themes more meaningful.
Seven pages of grammar activities for consolidation
Dominoes can be purchased as standalone readers or as part of an audio pack which includes the graded reader alongside downloadable MP3 audio.
Reading is a valuable learning tool and can greatly help students practise, reinforce and improve their language skills but it can be difficult to use reading in the classroom.
How can I get my students to read?, How can I make reading a classroom activity?,
and
how can I be sure they understand what they've read?
are common questions teachers ask and we're here to help with the Oxford Big Read.These short, simple, and practical tips will help you get all of your students reading and using what they have read in group work and short projects. Students get excited about reading, your whole class gets involved and you know they've understood what they've read. Join the Oxford Teachers' Club for free and the
Big Read
will help you get your whole class reading.
Dominoes includes: