Dominoes One From the Earth to the Moon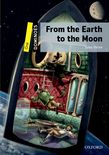 Dominoes One From the Earth to the Moon
Level 1 - World Literature
Jules Verne
Text adaptation by Janet Hardy-Gould
It is 1865. Impey Barbicane and J.T. Maston are very good with guns and explosives, and want to do something important DS so they decide to build a big gun and use it to go to the Moon. But no-one has gone to the Moon before, and many people, like the great Captain Nicholl, believe that it cannot be done. What will happen when Barbicane and Nicholl meet? And will the men who try to go to the Moon come back alive?
ISBN:

978-0-19-424557-9

Pages:

56

Binding: Paperback
Dimensions: 210x148 mm
Dominoes is a full-colour, interactive readers series that offers students a fun reading experience while building their language skills. With integrated activities and on-page glossaries the new edition of the series makes reading motivating for learners. Each reader is carefully graded to ensure each student reads from the right level from the very beginning.

Carefully graded, beautifully illustrated stories

Fully dramatized audio recordings featuring native-speaker actors, music, and sound effects
Integrated activities to develop reading skills and increase active vocabulary
Seven pages of grammar activities in every book
Interactive MultiROM containing a range of activities and games (for every book)
Two personalized projects in every book
Word count 5,894
How do you interest today's multimedia, digital students in reading, especially in a language that is not their own?

Our exciting new edition of Dominoes holds the answer... A full-colour, entertaining, interactive four-level readers series, it offers students an enjoyable reading experience while building their language skills through integrated language activities, projects, and contextualized grammar work.

Dominoes makes reading motivating and fun for students, while making it easy for you to develop their reading and language skills either in or outside the classroom.

So what's new about this edition of this popular series?

* To make Dominoes even more appealing to today's language learner, every book in the new edition is now supported by an accompanying MultiROM. Each MultiROM features fully dramatized audio, interactive activities, games and an interactive wordlist to help students consolidate their vocabulary, grammar, comprehension, and language skills. The audio recordings bring the stories to life, and also provide a valuable resource of authentic spoken English for students.

* In addition to the skills-work activities on the MultiROM, we've added seven grammar pages to every book. These offer students an opportunity to revise and practise grammar areas appropriate for their level.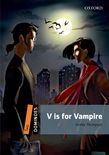 Build your language skills through reading Dominoes, the interactive readers series.