Dominoes: The Travels of Ibn Battuta
Dominoes: The Travels of Ibn Battuta
Level 1: 400-Word Vocabulary
Dominoes are perfect for reading practice and language skills development in class or during individual study.

'My First journey was a pilgrimage to Makkah. I got on a donkey and said "Goodbye" to my parents in Tangier when I was 21. My mother cried.'

In this way Ibn Battuta, one of the greatest travelers in the world, begins telling his story to his nephew, Ahmed.

His many journeys take him to new and interesting places far from home. He sees many strange and wonderful things, has many funny and frightening experiences, and meets many different people along the way.

This is his story
ISBN:

978-0-19-424772-6

Price: $ 9.38
Pages:

56

Binding: Paperback
Dimensions: 210x148 mm
Dominoes is a full-colour, interactive readers series that offers students a fun reading experience while building their language skills. With integrated activities and on-page glossaries the new edition of the series makes reading motivating for learners. Each reader is carefully graded to ensure each student reads from the right level from the very beginning.
Carefully graded, beautifully illustrated stories
Seven pages of grammar activities in every book
Two personalized projects in every book
Dominoes are perfect for reading practice and language skills development in class or during individual study.

'My First journey was a pilgrimage to Makkah. I got on a donkey and said "Goodbye" to my parents in Tangier when I was 21. My mother cried.'

In this way Ibn Battuta, one of the greatest travelers in the world, begins telling his story to his nephew, Ahmed.

His many journeys take him to new and interesting places far from home. He sees many strange and wonderful things, has many funny and frightening experiences, and meets many different people along the way.

This is his story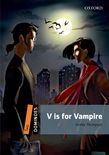 Build your language skills through reading Dominoes, the interactive readers series.