Dominoes One Studio Five Audio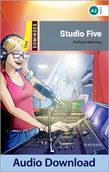 Dominoes One Studio Five Audio
New Edition

Second Edition
Anthony Manning
| | |
| --- | --- |
| Format: | Downloadable audio file |
Reading in English is one of the most effective ways to improve language skills. Our readers series are highly respected for their grading and content.
Dominoes is a full-colour, interactive readers series that offers students a fun reading experience while building their language skills. With integrated activities and on-page glossaries the new edition of the series makes reading motivating for learners. Each reader is carefully graded to ensure each student reads from the right level from the very beginning.
Carefully graded, beautifully illustrated stories
Seven pages of grammar activities in every book
Two personalized projects in every book
The structured approach to reading in English
Dominoes is an enjoyable series of illustrated classic and modern stories in four carefully graded language stages - from Starter to Three - which takes learners from beginner to intermediate level.
Each Domino reader includes:
A good story to read and enjoy.
Integrated activities to develop reading skills and increase active vocabulary.
Personalised projects to make the language and story themes more meaningful.
Seven pages of grammar activities for consolidation
Dominoes can be purchased as standalone readers or as part of an audio pack which includes the graded reader alongside downloadable MP3 audio.
When you redeem your code at
www.oup.com/elt/download
you will have 30 days to download your files. You can transfer the files to any of your compatible devices.
Please note that the licence agreement does not allow you to share the files with anyone outside of your school or college.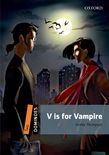 Build your language skills through reading Dominoes, the interactive readers series.