Dominoes 1 Travels of Ibn Battuta e-book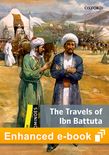 Price:
GBP 7.99
+ Sales Tax
Dominoes 1 Travels of Ibn Battuta e-book
'My first journey was a pilgrimage to Mecca. I got on a donkey and said "Goodbye" to my parents in Tangier when I was 21. My mother cried.'

In this way Ibn Battuta, one of the greatest travellers in the world, begins telling his story to his nephew, Ahmed.
His many journeys take him to new and interesting places far from home. He sees many strange and wonderful things, has many funny and frightening experiences, and meets many different people along the way.
This is his story...
Dominoes is a full-colour, interactive readers series that offers students a fun reading experience while building their language skills. With integrated activities and on-page glossaries the new edition of the series makes reading motivating for learners. Each reader is carefully graded to ensure each student reads from the right level from the very beginning.
Carefully graded, beautifully illustrated stories
Seven pages of grammar activities in every book
Two personalized projects in every book
The structured approach to reading in English
Dominoes is an enjoyable series of illustrated classic and modern stories in four carefully graded language stages - from Starter to Three - which takes learners from beginner to intermediate level.
Each Domino reader includes:
A good story to read and enjoy.
Integrated activities to develop reading skills and increase active vocabulary.
Personalised projects to make the language and story themes more meaningful.
Seven pages of grammar activities for consolidation
Dominoes can be purchased as standalone readers or as part of an audio pack which includes the graded reader alongside downloadable MP3 audio.
The licence period for this product is perpetual.
The use of this product is subject to the Oxford Learners Bookshelf
terms and conditions
.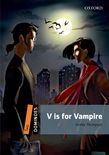 Build your language skills through reading Dominoes, the interactive readers series.