Dominoes Starter The Bottle Imp
Dominoes Starter The Bottle Imp
Starter - Mystery & Horror
Robert Louis Stevenson
Text adaptation by Rachel Bladon
Keawe buys a magic bottle that can give him anything he wants. He builds a beautiful house, falls in love with and marries Kokua, and is very happy. But if you have the bottle and die, you go to hell - and when Keawe tries to get rid of the bottle, it comes back. He wants to sell it, but people are afraid. Can Kokua find a way to help Keawe? Or will one of them go to hell in the end?
ISBN:

978-0-19-424552-4

Pages:

56

Binding: Paperback
Dimensions: 210x148 mm
Dominoes is a full-colour, interactive readers series that offers students a fun reading experience while building their language skills. With integrated activities and on-page glossaries the new edition of the series makes reading motivating for learners. Each reader is carefully graded to ensure each student reads from the right level from the very beginning.
Carefully graded, beautifully illustrated stories
Fully dramatized audio recordings featuring native-speaker actors, music, and sound effects
Integrated activities to develop reading skills and increase active vocabulary
Seven pages of grammar activities in every book
Interactive MultiROM containing a range of activities and games (for every book)
Two personalized projects in every book
Word count 3,496
How do you interest today's multimedia, digital students in reading, especially in a language that is not their own?

Our exciting new edition of Dominoes holds the answer... A full-colour, entertaining, interactive four-level readers series, it offers students an enjoyable reading experience while building their language skills through integrated language activities, projects, and contextualized grammar work.

Dominoes makes reading motivating and fun for students, while making it easy for you to develop their reading and language skills either in or outside the classroom.

So what's new about this edition of this popular series?

* To make Dominoes even more appealing to today's language learner, every book in the new edition is now supported by an accompanying MultiROM. Each MultiROM features fully dramatized audio, interactive activities, games and an interactive wordlist to help students consolidate their vocabulary, grammar, comprehension, and language skills. The audio recordings bring the stories to life, and also provide a valuable resource of authentic spoken English for students.

* In addition to the skills-work activities on the MultiROM, we've added seven grammar pages to every book. These offer students an opportunity to revise and practise grammar areas appropriate for their level.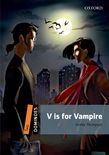 Build your language skills through reading Dominoes, the interactive readers series.