Dominoes, New Edition: Nicholas Nickleby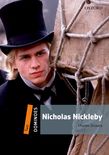 Dominoes, New Edition: Nicholas Nickleby
Level 2: 700-Word Vocabulary
Charles Dickens
Text adaptation by Tim Herdon
When his father dies a poor man, Nicholas Nickleby goes to London with his mother and sister, Kate. He hopes for help from his rich Uncle Ralph. But Ralph Nickleby is only interested in making money.

So Nicholas takes a teaching job at Dotheboys Hall - a terrible school belonging to Mr Wackford Squeers. There he helps a poor boy called Smike who has no one to look after him.

Leaving Dotheboys, Nicholas makes both friends and enemies on his journey towards better things. But will Smike, who travels with him, ever find the happy family life that he so dearly wants?
ISBN:

978-0-19-424886-0

Price: $ 9.38
Pages:

72

Binding: Paperback
Dimensions: 210x148 mm
Dominoes is a full-colour, interactive readers series that offers students a fun reading experience while building their language skills. With integrated activities and on-page glossaries the new edition of the series makes reading motivating for learners. Each reader is carefully graded to ensure each student reads from the right level from the very beginning.
Carefully graded, beautifully illustrated stories
Integrated activities to develop reading skills and increase active vocabulary
Seven pages of grammar activities in every book
Two personalized projects in every book
The structured approach to reading in English
Dominoes is an enjoyable series of illustrated classic and modern stories in four carefully graded language stages - from Starter to Three - which takes learners from beginner to intermediate level.
Each Domino reader includes:
A good story to read and enjoy.
Integrated activities to develop reading skills and increase active vocabulary.
Personalised projects to make the language and story themes more meaningful.
Seven pages of grammar activities for consolidation
Dominoes can be purchased as standalone readers or as part of an audio pack which includes the graded reader alongside downloadable MP3 audio.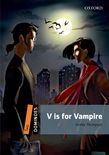 Build your language skills through reading Dominoes, the interactive readers series.