Dominoes Two War Horse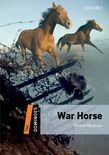 Dominoes Two War Horse
Michael Morpurgo
Text adaptation by Alex Raynham
'We'll be friends, you and I. I'll call you Joey,' Albert said. 'I'll look after you. We'll always be friends, I promise.'

Albert Narracott, a farmer's boy, makes this promise to his horse, Joey, in Devon, England. But this is before the First World War, and before Joey leaves for France to become a war horse. What happens to Joey in the British army? What will the Germans and the French do to him when they find him? And how will Albert find Joey again? Read this story and find out.
ISBN:

978-0-19-424982-9

Pages:

72

Binding: Paperback
Dimensions: 210x148 mm
Dominoes is a full-colour, interactive readers series that offers students a fun reading experience while building their language skills. With integrated activities and on-page glossaries the new edition of the series makes reading motivating for learners. Each reader is carefully graded to ensure each student reads from the right level from the very beginning.
Carefully graded, beautifully illustrated stories
Integrated activities to develop reading skills and increase active vocabulary
Seven pages of grammar activities in every book
Two personalized projects in every book
The structured approach to reading in English
Dominoes is an enjoyable series of illustrated classic and modern stories in four carefully graded language stages - from Starter to Three - which takes learners from beginner to intermediate level.
Each Domino reader includes:
A good story to read and enjoy.
Integrated activities to develop reading skills and increase active vocabulary.
Personalised projects to make the language and story themes more meaningful.
Seven pages of grammar activities for consolidation
Dominoes can be purchased as standalone readers or as part of an audio pack which includes the graded reader alongside downloadable MP3 audio.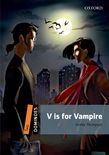 Build your language skills through reading Dominoes, the interactive readers series.