Oxford Bookworms Library Level 1: The Boy-King Tutankhamun e-book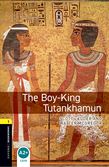 Oxford Bookworms Library Level 1: The Boy-King Tutankhamun e-book
Scott Lauder and Walter McGregor
Classics, modern fiction, non-fiction and more. Written for secondary and adult students the Oxford Bookworms Library has seven reading levels from A1-C1 of the CEFR.

Read this e-book on the Oxford Learner's Bookshelf - available for iPad, Android, and online.

'I can see wonderful things!' said Howard Carter, when he opened the tomb of the Egyptian boy-king Tutankhamun, in 1922. Suddenly Tutankhamun was famous. This is Tutankhamun's story, told by his friend Aziru. Aziru goes to live in the Pharaoh's palace as a young boy, and he and Tutankhamun are soon great friends. Pharaoh from the age of nine, Tutankhamun rebuilds his country from times of great change. But there are powerful men in the palace, and Aziru is often afraid for his friend too..

CEFR A1/A2
Word count 5,200
Level 1:

400-Word Vocabulary

Average Page Count (Main Text):40

Average Word Count: 5,200

Lexile Measures: 310L-960L

Approx. Reading Level: Grades 1-10

Word count 5,200
Read at a comfortable level with word count and CEFR level for every book.
Illustrations, photos, and diagrams support comprehension.
Interactive activities build language skills and check understanding.
Slow down audio to build listening skills.
Glossaries with audio teach difficult vocabulary and pronunciation.
Free editable tests for every book.
Track reading progress and earn certificates with the Reading Diary.
This award-winning collection of adapted classic literature and original stories develops reading skills for low-beginning through advanced students.

Accessible language and carefully controlled vocabulary build students' reading confidence.

Introductions at the beginning of each story, illustrations throughout, and glossaries help build comprehension.

Before, during, and after reading activities included in the back of each book strengthen student comprehension.

Audio versions of selected titles provide great models of intonation and pronunciation of difficult words.
The licence period for this product is perpetual.
The use of this product is subject to the Oxford Learners Bookshelf
terms and conditions
.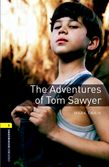 Bookworms are the World's Best Leveled Readers Series.