Oxford Bookworms Library: Sherlock Holmes and the Sport of Kings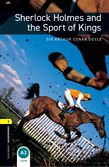 Oxford Bookworms Library: Sherlock Holmes and the Sport of Kings
Level 1: 400-Word Vocabulary
Sir Arthur Conan Doyle
Retold by Jennifer Bassett
Horseracing is the sport of kings, perhaps because racehorses are very expensive animals. But when they win races, they can make a lot of money too - money for the owners, for the trainers, and for the people who put bets on them to win. Silver Blaze is a young horse, but already the winner of many races. One night he disappears from his stables, and someone kills his trainer. The police want the killer, and the owner wants his horse, but they can't find them. So what do they do? They write to 221B Baker Street, London, of course - to ask for the help of the great detective, Sherlock Holmes.
ISBN:

978-0-19-478920-2

Price: $ 9.38
Pages:

64

Binding: Paperback
Dimensions: 198x129 mm
Level 1:

400-Word Vocabulary

Average Page Count (Main Text):40

Average Word Count: 5,200

Lexile Measures: 310L-960L

Approx. Reading Level: Grades 1-10

Word count 5,925
Read at a comfortable level with word count and CEFR level on every cover
Illustrations, photos, and diagrams support comprehension
Activities build language skills and check understanding
Glossaries teach difficult vocabulary
Free editable tests for every book
Selected Bookworms are available for your tablet or computer through the Oxford Learner's Bookshelf
This award-winning collection of adapted classic literature and original stories develops reading skills for low-beginning through advanced students.

Accessible language and carefully controlled vocabulary build students' reading confidence.

Introductions at the beginning of each story, illustrations throughout, and glossaries help build comprehension.

Before, during, and after reading activities included in the back of each book strengthen student comprehension.

Audio versions of selected titles provide great models of intonation and pronunciation of difficult words.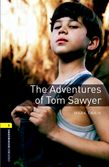 Bookworms are the World's Best Leveled Readers Series.