Oxford Bookworms Library Level 2: Sherlock Holmes: More Short Stories audio pack

Oxford Bookworms Library Level 2: Sherlock Holmes: More Short Stories audio pack
Graded readers for secondary and adult learners
Sir Arthur Conan Doyle Retold by Clare West
| | |
| --- | --- |
| Format: | Mixed media format |
Sherlock Holmes is famous around the world. When the police cannot solve a crime, they turn to Holmes. He never misses a clue, and when he looks carefully at a person, he can understand everything about them. These are two of the best Sherlock Holmes stories. In 'The Dead Coachman', Holmes investigates a burglary and a murder while he is staying in the countryside with his friend Doctor Watson. In 'The Last Mystery', Holmes is in danger from the evil Professor Moriarty, who is as clever as the detective himself. They are both ready to fight to the death. But who will win?
Classics, modern fiction, non-fiction and more. Written for secondary and adult students the Oxford Bookworms Library has seven reading levels from A1-C1 of the CEFR.
Read at a comfortable level with word count and CEFR level on every cover
Illustrations, photos, and diagrams support comprehension
Activities build language skills and check understanding
Audio improves reading and listening skills
Glossaries teach difficult vocabulary
Free editable tests for every book
Oxford Bookworms are available for your tablet or computer through the Oxford Learner's Bookshelf
Perfect for use in and out of class the Oxford Bookworms Library gives you:
Choice
- Students can choose from over 270 books, across a wide range of genres – from crime, fantasy and thrillers, to classics, plays and non-fiction. There's something for everyone!
Comfort and Consistency
- Bookworms are written to a carefully designed language syllabus, judged to be
"the most consistent of all series in terms of language control, length, and quality of story"
by David R. Hill (ELT journal review). The reliable grading and variety of books available means students practise and improve their English by reading at a comfortable level, with books that really interest them.
Extra Teacher Support
-
Free editable tests
for every book makes it easy to use readers with your class, test your students' knowledge, and check their comprehension. For more ways of using Bookworms in and out of class watch the
Oxford Big Read
step-by-step video tips with downloadable worksheets.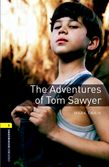 Classics, modern fiction, non-fiction and more – the Oxford Bookworms Library has a book for every student.