Oxford Bookworms Library Factfiles Level 2: Leonardo Da Vinci e-book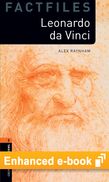 Oxford Bookworms Library Factfiles Level 2: Leonardo Da Vinci e-book
Graded readers for secondary and adult learners
Alex Raynham
What does the world look like from the moon?' 'How do our bodies work?' 'Is it possible for people to fly?' 'Can I make a horse of bronze that is 8 metres tall?' 'How can we have cleaner cities?' All his life, Leonardo da Vinci asked questions. We know him as a great artist, but he was one of the great thinkers of all time, and even today, doctors and scientists are still learning from his ideas. Meet the man who made a robot lion, wrote backwards, and tried to win a war by moving a river...

CEFR A2/B1
Word count 7,033
ISBN:

978-0-19-465558-3

Price: USD 11.00 + Sales Tax
How to buy

Leonardo da Vinci is available as an e-book, with interactive features designed specifically for language learners. Available for iPad and tablets for Android via the Oxford Learner's Bookshelf app and online on a computer at www.oxfordlearnersbookshelf.com. Learners study online or on a tablet and their work syncs between devices.
Read at a comfortable level with word count and CEFR level for every book
Illustrations, photos, and diagrams support comprehension
Interactive activities build language skills and check understanding
Slow down audio to build listening skills
Glossaries with audio teach difficult vocabulary and pronunciation
Free editable tests for every book
Track reading progress and earn certifcates with the Reading Diary
Perfect for use in and out of class the Oxford Bookworms Library gives you:

Choice - Students can choose from over 270 books, across a wide range of genres - from crime, fantasy and thrillers, to classics, plays and non-fiction. There's something for everyone!

Comfort and Consistency - Bookworms are written to a carefully designed language syllabus, judged to be "the most consistent of all series in terms of language control, length, and quality of story" by David R. Hill (ELT journal review). The reliable grading and variety of books available means students practise and improve their English by reading at a comfortable level, with books that really interest them.

Extra Teacher Support - Free editable tests for every book makes it easy to use readers with your class, test your students' knowledge, and check their comprehension. For more ways of using Bookworms in and out of class watch the Oxford Big Read step-by-step video tips with downloadable worksheets.
Factfiles are non-fiction graded readers from the Oxford Bookworms Library available for Levels 1 to 4 (CEFR A1- B2).
Students learn about different countries and cultures, science and nature, history and historical figures all while practising and improving their English.
Read about
Climate Change
,
World Wonders
,
Nelson Mandela
, and
much more
.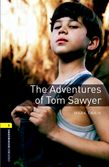 Bookworms are the World's Best Leveled Readers Series.