Oxford Bookworms Library Starter Tests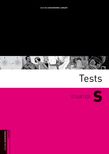 Oxford Bookworms Library Starter Tests
Oxford Bookworms Library Starter Tests include Comprehensive Tests with answer keys as well as Multiple-Choice Tests with answer keys.
ISBN:

978-0-19-423401-6

Pages:

88

Binding: Paperback
Dimensions: 297x210 mm
Oxford Bookworms enjoy a world-wide reputation for high-quality storytelling and a great reading experience.

Research shows reading a lot improves all your language skills.

Experts recognize Oxford Bookworms as the most consistent series in terms of language control, length, and quality of story - very important for fluent reading and extensive reading.

There's a wide choice of titles too - something for everyone.
Graded according to the acclaimed Bookworms syllabus
Award-winning titles
Stunning covers
Extended activities section at the back
Word count and CEF level on every cover
Audio CDs for the complete text
Free print and online teachers' support for every title - www.oup.com/bookworms
Oxford Bookworms Library Teacher's Resourses

Teacher's Handbooks for each Level have:
Notes on getting the best out of Bookworms.

Information on the Bookworms syllabus and keywords.

Guidance on how to get your students reading, including using different types of Bookworms, setting up a class library, and running Extensive Reading Programs

Answers to the activities in all the books.

Tests for each Level include: Comprehension Tests with Answer Key and New Multiple-Choice Tests with answers.

Activity Worksheets for Levels 1-4 include:

A summary of each book.

A photocopiable worksheet with Before, While and After reading activities.

Activity Worksheet answers.