Oxford Read and Discover Level 5 Homes Around the World e-book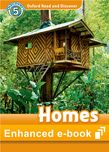 Oxford Read and Discover Level 5 Homes Around the World e-book
| | |
| --- | --- |
| Format: | Electronic book text |
New non-fiction graded readers for primary – 8-year-olds and up. Cross-curricular topics and colour photos make learning English through other subjects exciting. Two new levels for younger or lower-level students.
Homes Around the World is available as an e-book, with interactive features designed specifically for language learners. Available for iPad and tablets for Android via the Oxford Learner's Bookshelf app and online on a computer at www.oxfordlearnersbookshelf.com. Learners study online or on a tablet and their work syncs between devices.
Audio for every title. Speed up or slow down to help with pronunciation
Videos bring topics alive and engage students
Personalize. Take and save notes anywhere on the page
Easy to get around. Bookmark pages, and view pages on a thumbnail sorter
>
NEW
Two new levels for younger or lower-level students forthcoming (2012)
For a series of non-fiction readers which provides cross-curricular / CLIL content with activities, project work and stunning full-colour photographs, look no further than
Oxford Read and Discover
.
The fascinating information and eye-catching images in these exciting new books appeal to a wide range of students.
A comprehensive range of non-fiction topics that can be used for cross-curricular work makes it easy to bring CLIL into your classroom – and motivate your students.
The series covers three broad curriculum areas:
The World of Science and Technology
The Natural World
The World of Arts and Social Studies
The flexible design of the books provides both free and supported reading opportunities. The activity pages at the back allow for uninterrupted reading. Clear signposting makes them easy to find.
Let the students read the text freely – photos, diagrams, and charts will support their understanding – or they can turn to the activity pages for more language skills practice and interaction with the text. The Picture Dictionary or Glossary, depending on the level, is always at hand to offer extra support.
Two projects in every book give students the chance to practise their research and presentation skills.
Audio recordings of all the books, in both American and British English, bring the language to life and help with pronunciation.
The Teacher's Handbook gives lesson planning and CLIL guidance, plus all the activity answers. The content summary is a great selector tool.
Visit the
teacher's website
for a digital version of the Teacher's Handbook, as well as Activity Book answer keys and more resources:
www.oup.com/elt/teacher/readanddiscover
The licence period for this product is perpetual.
The use of this product is subject to the Oxford Learners Bookshelf
terms and conditions
.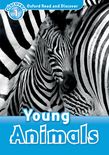 Read and Discover more about the world...