Oxford Read and Imagine Early Starter, Starter and Beginner Levels Collection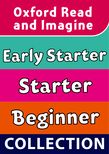 Oxford Read and Imagine Early Starter, Starter and Beginner Levels Collection
Fiction Graded Reader series for young learners - partners with non-fiction series Oxford Read and Discover
12 Oxford Read and Imagine graded readers e-books, plus 9 activity books on Oxford Learner's Bookshelf with a motivational reading diary.
ISBN:

978-0-19-412451-5

Licence Length:

12 months
Oxford Read and Imagine invites young readers into an exciting world of great stories.

With 12 titles from the series plus 9 activity books to choose from, everyone can find a book for them. Track your reading progress with the reading diary and become more independent with your learning.
Interactive e-books with animated stories, pop-up vocabulary support, and games
Track your reading progress in the reading diary: see the number of books read, the number of words read and time spent reading.
Download a certificate as a record of your reading achievements.
Collect awards and share your reading diary progress with your teacher, parents or friends.
Enjoy the digital benefits of the Oxford Learner's Bookshelf and improve all your English skills while reading - listen to the audio as you read, change the pace of the audio to suit your reading speed, record your pronunciation and compare it to the audio.
The Oxford Readers Collections are a great way to become more independent with your learning because you have the opportunity to choose what you want to read.
Learn more about the collections
A teacher's view:
"We have noticed improvements in [students] general English, their motivation and learner autonomy, because they're allowed to choose their own books in class, which is something they're not allowed to do in other subjects."
(Vanessa Hartson Walker, Teacher from Italy)
With the Oxford Readers Collections on the Oxford Learner's Bookshelf, you can listen to the audio recording while reading, and change the pace to suit your reading speed. This provides added listening practice, and is something SEN learners find particularly useful.
Learn more about the collections
Oxford Read and Imagine titles included in this collection:
Early Starter
What's This?
The Picnic
Spider, Spider
Starter
At the Zoo + activity book
Clunk Draws a Picture + activity book
One, Two, Three + activity book
Where's My Hat? + activity book
Beginner
A Rainy Day + activity book
I'm Sorry + activity book
In the Snow + activity book
The Cake Machine + activity book
Crocodile in the House + activity book
PC/laptop/tablet
ioS/Android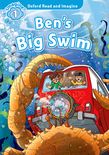 Oxford Read and Imagine provides great stories to read and enjoy, with language support, activities, and projects. Follow Rosie, Ben, and Grandpa on their exciting adventures…