Start with English Readers Grade 4 In the Cave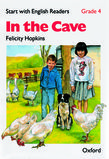 Start with English Readers Grade 4 In the Cave
Catherine and Alex are trapped in a cave.

ISBN:

978-0-19-433791-5

Pages:

24

Binding: Paperback
Dimensions: 220x150 mm
All the stories are original, with a traditional feel, and are illustrated in full colour.
Children can choose from a wide variety of titles, including animal stories, adventure stories, science fiction and more factual topics.
The structures and vocabulary are carefully graded to correspond with the Start with English series.
Each reader contains a full-colour dictionary.
Grades 3-6 contain exercises at the back of the book to check understanding.