Really Learn 100 Phrasal Verbs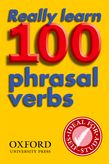 Really Learn 100 Phrasal Verbs
Learn the 100 most frequent and useful phrasal verbs in English in six easy steps.
Second Edition
A self-study book that presents one phrasal verb on one page. Examples and exercises show the most important meanings and the situations in which it is most commonly used.
ISBN:

978-0-19-431744-3

Pages:

128

Binding: Paperback
Dimensions: 234x156 mm
You can choose the phrasal verbs you want to focus on and work through the book in any order. The Reference Key with answers makes this ideal for self-study.

Each phrasal verb is presented and practised in six easy steps.
Study examples of each verb as it's really used
Check the meaning and the grammar of the verb
Practise using each verb in the exercises
Build vocabulary with related words, synonyms, and opposites
Test progress with the review pages
Check the Reference Key for answers, meanings, and extra grammar tips
Each of the 100 phrasal verbs is introduced, explained, and practised in six easy steps.

Step 1 - Study. Example sentences show the usual contexts for the phrasal verb and all the possible grammar patterns.

Step 2 - Check. Using the example in the Study box students check they understand the meaning of the verb and the grammar patterns.

Step 3 - Practise. Exercises practise using the verb. The answers are in the Reference Key.

Step 4 - Build Your Vocabulary. Extra information about the phrasal verb such as related nouns or adjectives, synonyms and opposites, other meanings of the verb, or verbs with similar or related meanings help develop vocabulary.

Step 5 - The revision and review pages in the centre of the book look at the meaning of the particles used with phrasal verbs or group verbs into themes. Exercises helps students review what they have learned and give exam practice.

Step 6 - Get it right. Check the Reference Key for answers, meanings, and extra grammar tips.
You may also be interested in...