Oxford Learner's Pocket Phrasal Verbs and Idioms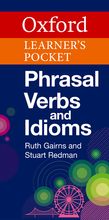 Oxford Learner's Pocket Phrasal Verbs and Idioms
Learn phrasal verbs and idioms in context and know how and when to use them.
ISBN:

978-0-19-432549-3

Pages:

288

Binding: Paperback
Increase your knowledge and understanding of phrasal verbs and idioms with this compact, easy-to-use book. It teaches over 1,500 phrasal verbs and idioms, and is ideal for preparing for exams such as IELTS and Cambridge English: Proficiency and Advanced.
Learn phrases and expressions for everyday situations
Covers topics such as sport, study, business, social events and home technology
Includes information on style, synonyms, opposites and derivatives, and common word partners
Download the wordlist at www.oup.com/elt/wordskills and test yourself on the phrasal verbs and idioms covered in the book
Written by vocabulary experts Ruth Gairns and Stuart Redman, the authors of the popular Oxford Word Skills series
Oxford Learner's Pocket Phrasal Verbs and Idioms
can be used alongside English courses. It includes most of the topics commonly found in coursebooks, and also teaches phrasal verbs and idioms that coursebooks do not have space for.
There are more than 1,500 phrasal verbs and idioms taught in the book, corresponding to B1-C2 level, with a particular emphasis on C1-C2 levels.
The 134 units are divided into 24 modules which cover different areas of important topics such as 'Family and friends' or 'Work', or information about particular aspects of phrasal verbs such as grammar, style, or meanings of specific particles (e.g. back, on, or through).
Each unit in a module presents and explains approximately 15 items of vocabulary. Some are presented through pictures, e.g. 'Physical actions' or 'Using phones and mobiles', but more often the vocabulary is presented in different types of text so that you can see the new phrasal verbs and idioms being used naturally. All the new vocabulary is shown in bold text.
Opposite each text is a glossary explains the new vocabulary and gives further important information to help you. This might be about grammar, style, synonyms or opposites, or related words from the same word family.
The Word Focus box gives you more information about a word or group of words.
A wordlist is available at
www.oup.com/elt/wordskills
which includes all the phrasal verbs and idioms explained in the book. You can use it as a reference for studyng, or to test yourself.