Oxford Learner's Pocket Verbs and Tenses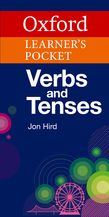 Oxford Learner's Pocket Verbs and Tenses
Understand verbs and tenses and how to use them.
ISBN:

978-0-19-432569-1

Pages:

392

Binding: Paperback
Increase your knowledge and understanding of verbs and tenses with this compact, easy-to-use book. It explains the form, meaning, and use of verbs and tenses and is ideal for preparing for exams such as IELTS and Cambridge English: PET, FCE, CAE, and CPE.
A concise explanation of a key element of the English language: verbs and tenses
Helps you avoid mistakes with tips and examples of common errors
Gives examples from spoken and written English
Written by grammar expert Jon Hird, who teaches English at the University of Oxford
Oxford Learner's Pocket Verbs and Tenses corresponds to CEFR B1-C2 level and is ideal for exam preparation and revision. It is written with the syllabuses of IELTS, Cambridge English PET, FCE, CAE and CPE in mind, and will complement any English course by offering a deeper explanation of verbs and tenses.

The 110 units are divided into 14 sections. Each unit takes a key topic relating to verbs and tenses and clearly explains form, meaning, and use.

A useful tip is included in each unit, often featuring idiomatic use of the verbs and tenses covered. The book includes a great many illustrative example sentences, which cover both spoken and written English. It also warns of common errors to avoid.

The content of the units reflects thorough corpus-based research into current use of verbs and tenses. Extensive cross-referencing allows learners to build a full understanding of the connections between different topics.

Following the units is a glossary, which explains all the grammar terms used. This is followed by appendices, which include information on verb formation, a guide to spelling, and comprehensive verb lists.

An index makes it easy to navigate the content of the book.

Oxford Learner's Pocket Verbs and Tenses can be used alongside Oxford Learner's Pocket Grammar, Oxford Learner's Pocket Phrasal Verbs and Idioms, Oxford Learner's Pocket Word Skills, and Oxford Learner's Pocket Dictionary. Together, they provide a complete, pocket-sized English language reference package.