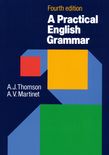 Hello
You can visit our worldwide website for our globally available teaching resources, or visit our local website for for products, events and materials for your area.
Please choose below:
Practical English Grammar
A classic grammar reference with clear explanations of grammatical structures and forms.
Third Edition
A grammar reference that is known for its clear explanations and for dealing with the topics students find most difficult. Two separate books of exercises provide practice.
Thomson and Martinet's grammar reference book has become a classic, and one of the most widely-used books of its time. It is a useful source of reference for intermediate to advanced, and for teachers.
A comprehensive survey of grammatical structures and forms with clear explanations and examples
Organized to make it easy to compare related topics, for example grouping verbs of liking and preference
Easy to find the grammar point you want to learn, with an Index and a Contents list summarizing every section heading
100 exercises, cross-referenced to the explanations in A Practical English Grammar
Exercises are graded as difficult, moderately difficult, and easy and focus on the areas of grammar that are most difficult for students
Recommended for revision and for self-study
For Practical English Grammar
(3)