Hello
You can visit our worldwide website for our globally available teaching resources, or visit our local website for for products, events and materials for your area.
Please choose below:
Grammar Friends 3
A new six-level grammar practice series for 6-12 year olds
Eileen Flannigan
Carefully graded primary grammar practice course that makes grammar easy to understand and remember.
The step-by-step grammar presentations in Grammar Friends introduce form, use and meaning in a way that even young beginner learners can understand and remember. The series was written to support the syllabus of Family and Friends but is an ideal supplement to any elementary general English course. There are lots of controlled activities to help children improve their written grammar and the fun interactive activities on the Grammar Friends Student Website to really encourage them to learn by themselves.
Student's Book
Student Website
Teacher's Book
Clear presentations in familiar contexts make the grammar easy to understand and remember.
Graded written activities help children improve grammatical accuracy
Regular revision units give opportunities for extra practice and consolidation
Covers the grammar for Cambridge ESOL Young Learners Exams
Photocopiable tests in the Teacher's Book
Flexible enough to be used alongside any primary course
How does it work?
Each unit introduces an element of English grammar through a picture or series of pictures with speech bubbles or captions. The grammar is then explained in simple language with extra examples if necessary. This is followed by exercises increasing in difficulty from straightforward concept check exercises (e.g. matching tasks) to sentence-writing activities. The units are four pages long and they cover one, two, or three grammar points.

Children meet new grammar within everyday contexts they are familiar with, such as family or friends of the same age. This means because they know the vocabulary it makes it much easier to concentrate on the grammar.

Because there is always a clear focus on the specific target grammar the units in Grammar Friends can be used in any order depending on the syllabus you are following.

Teaching tips, answer keys, and tests in the Teacher's Book make it much easier to monitor students' progress.

There are plenty of activities on the Grammar Friends Student Website for home and holiday study so students can enjoyably continue practising English when not in the classroom.
All the grammar necessary for the Cambridge ESOL Young Learners Exams is covered as follows:

Starters: Grammar Friends 1 and 2
Movers: Grammar Friends 3 and 4
Flyers: Grammar Friends 5 and 6
For Grammar Friends 3
(2)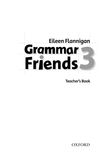 Teacher's Book
978-0-19-478008-7
A new six-level grammar practice series for primary pupils aged 6 to 12 which pr...

Student Book
978-0-19-478002-5
You may also be interested in...