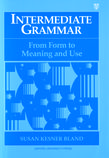 Hello
You can visit our worldwide website for our globally available teaching resources, or visit our local website for for products, events and materials for your area.
Please choose below:
Intermediate Grammar
An informative, easy-to-use grammar text and practice book (American English). It works towards more consistent and accurate usage in everyday situations, and goes beyond these contexts to more abstract language use. It offers spoken and written practice for pairs, groups, and individuals.
Intermediate Grammar leads the student away from the beginner's concern with form and dependence on memorization, to a new awareness of the meanings and uses of structures and a new creativity and confidence in communication.
It introduces grammatical structures in authentic language and contexts.
It explains each structure accurately but without overwhelming the student, pointing out differences between spoken and written language.
A wealth of exercises is provided for practice, ranging from controlled work on form to more communicative work on meaning and use. The practice tasks are intellectually engaging, calling upon students' judgment, creativity, and problem-solving skills.
Self-study features encourage learner independence.
Chapter Summaries facilitate review by providing useful overviews of form, meaning, and use.
A Glossary of Grammar Terms gives a concise explanation of all the terms used in the book.
Appendices provide essential information on verbs, spelling, and pronunciation.
A detailed Index ensures that students can access the information in a number of ways without necessarily knowing grammatical terms.
A split edition in two volumes is available.
A Teacher's Book provides presentation ideas, extension activities, photocopiable assessment quizzes, and an answer key.