Oxford English Grammar Course Intermediate e-book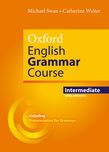 Oxford English Grammar Course Intermediate e-book
Step by step to grammar success

The Good Grammar Book: 2001 Equal 2nd prize, English Speaking Union Duke of Edinburgh Award

The Good Grammar Book: 2001 (Japan), National Prize for the Promotion of International Understanding

Complete interactive e-book version of the Oxford English Grammar Course Intermediate. Available for iPad and tablets for Android via the Oxford Learner's Bookshelf app.
Oxford English Grammar Course Intermediate is a revision and expansion of the highly successful How English Works.
Explanations: Accurate, brief grammar explanations provide students with clear rules, illustrated by simple realistic examples.
Abundant, automatically-marked exercises: Each rule is followed by a variety of exercises. These are automatically marked, with suggested answers for open questions.
Engaging activities: include Internet exercises which enable students to see how language is used in real life, and personalisation activities allow students to use the grammar to talk about themselves
Listening practice:Recordings of the texts in the book give added listening practice.
Pronunciation for grammar: Over 150 Interactive exercises teach students to follow the stress, rhythm and intonation of natural speech, and allow them to record and check their own pronunciation.
Tests:Revision tests help students to check their learning.
Simple navigation:Links and bookmarks make it easy to move quickly between pages and sections
Teacher's Guide: Links in each section offer the teacher additional communicative activities, out-of-class practice activities, and helpful language notes.

Online tests: Teachers can download additional tests at www.oup.com/elt/oxfordenglishgrammar
Online exercises: Students can access extra exercises and grammar games at www.oup.com/elt/oxfordenglishgrammar
The complete e-book of Oxford English Grammar Course Intermediate offers all the step-by-step teaching and practice material from the print book, including automatically marked versions of the exercises.
Recordings of the texts also provide added listening practice. Interactive 'pronunciation for grammar' exercises develop students' receptive and productive pronunciation fluency.
A lesson-by-lesson Teacher's Guide supplements the Student's Book exercises with hundreds of additional communicative and out-of-class practice activities, to help students make the move from practising grammar to using grammar. They also contain helpful Language Notes showing typical problems students may have with certain structures, often because of cross-language differences. You can see a sample of the Basic Teacher's Guide, or download the complete Guides free from
www.oup.com/elt/oegcteachersguides.
The licence period for this product is perpetual.
The use of this product is subject to the Oxford Learners Bookshelf
terms and conditions
.