Oxford Word Skills Advanced Idioms & Phrasal Verbs Student Book with Key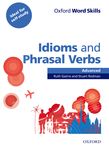 Oxford Word Skills Advanced Idioms & Phrasal Verbs Student Book with Key
Learn and practise English vocabulary
Learn and practise the verbs, prepositions and idioms you need to speak and write naturally in English.
ISBN:

978-0-19-462013-0

Pages:

208

Binding: Paperback
Dimensions: 265x190 mm
Part of the highly-successful Oxford Word Skills series, it helps students improve their vocabulary and vocabulary learning skills by presenting and practising over 1000 Idioms and Phrasal Verbs in everyday contexts. Lots of opportunity for personalization and review gives them the confidence to use their new vocabulary.
Over 1000 new idioms and phrasal verbs organized into 60 units
Units are presented in thematic modules such as 'Thinking, learning, knowledge' and 'Communicating with people'
'About you' or 'About your country' gives students the opportunity to personalize new vocabulary.
Covers all the phrasal verbs students need to know for major exams
Ideal for self-study or in the classroom
Online activities and information on the history of idioms
Review units provide further opportunity for students to revise and test themselves
Oxford Word Skills presents and practises the words, phrases, and lexical grammar students need to listen, speak, read, and write confidently on a wide range of topics and everyday situations.

Units are simple and clear. Each one sets a clear 'I can ...' learning goal so students can see exactly what they will be able to do and why.

With over 2,000 key words at each level and plenty of opportunity to practise, students can cover exactly the vocabulary they need - including typical exam topics.

It is ideal for use either in or outside the classroom. Each unit introduces just the right amount of vocabulary for students to learn and remember in one session and explains the new words using real-life contexts and situations.

Easy-to-use: there are spaces for writing in the answers plus a 'Test yourself' cover card for students to 'cover and check' they have learned the new vocabulary.

Regular review units allow students to check their progress and test longer-term recall.

Short of time? You can use Oxford Word Skills for just 20 or 30 minutes of a lesson. Short explanations and quick practice activities mean minimal preparation.