Translation in Language Teaching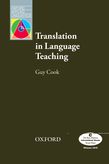 Translation in Language Teaching

Winner Ben Warren Prize 2010
A groundbreaking reconsideration of translation in English language teaching, this book is a survey and critical assessment of arguments for and against translation in different teaching contexts.
This book proposes translation as one of a number of ways of relating English to students own languages. It surveys the contexts of monolingual and bilingual teaching and discusses the different uses and roles of translation and bilingualisation for different stages and ages of learning and for different purposes, e.g. explanation, practice, and testing. Establishing a new direction in practice and research, it goes on to suggest and discuss ways in which translation might be incorporated into materials, curriculum development, and teacher education.
The book presents translation as:
An aid to language acquisition, pedagogy, and testing.
A contribution to student needs, rights, and empowerment.
An educational insight into relationships between languages and cultures.
ISBN:

978-0-19-442475-2

Price: $ 54.00
Pages:

208

Binding: Paperback
Dimensions: 234x156 mm
'...a well-argued hard-hitting title as this should immediately be placed on reading lists for all serious teacher development courses.'
- Wayne Trotman, EL Gazette
'This is an outstanding work which convincingly throws new light on a topic long outlawed in many teaching centres and shunned on many teacher training courses. It is a must for all teachers and teacher trainers.'
- Roger Hunt, Director of Education, International House Barcelona