Second Language Pragmatics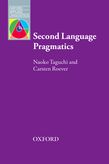 Second Language Pragmatics
Naoko Taguchi and Carsten Roever
Taguchi and Roever present the latest developments in second language pragmatics research, combining acquisitional and sociolinguistic perspectives.
ISBN:

978-0-19-420058-5

Pages:

336

Binding: Paperback
Dimensions: 234x156 mm
Taguchi and Roever present the latest developments in second language pragmatics research, combining acquisitional and sociolinguistic perspectives. They cover theories of pragmatics learning and research methods in investigating pragmatics, linking these with findings on the acquisition of second language pragmatics and with practice in teaching and assessing pragmatics. Discussing pragmatics in the context of multilingual societies and diverse contexts of use, they offer a broad perspective on this growing area.
"Written by two leading authorities, Second Language Pragmatics offers a comprehensive review of pragmatics as an object of second language learning, instruction and assessment. The book masterfully lays out the advances made over three decades, showing in welcome descriptive detail how the field has benefited from the diverse theoretical perspectives and empirical traditions that define it today. Taguchi and Roever extend a persuasive invitation to further research on second language pragmatics as a multilingual, multicultural, and multicontextual enterprise."
- Gabriele Kasper, Professor of Second Language Studies, University of Hawaii at Manoa
"This book is an outstanding and long-needed overview of the field of second language pragmatics which offers a view of the changes to come in our globalized, technology-mediated, multilingual world."
- Marta González-Lloret, Professor and Chair of Spanish and LAIS, University of Hawaii at Manoa
"a timely contribution to the field of L2 pragmatics and L2 teaching... very informative and inspiring... Taguchi and Roever challenge the static research tradition with new research paradigm shifts that respond to the era of globalization, which clearly show their progressive thinking as researchers and authors... Written in a reader-friendly style... [this] is an excellent course book for all readers who are interested in pragmatic research, language learning and teaching and intercultural communications."
- RELC Journal
"a timely addition to this area [and] a much-needed update... Highly accessible to both experienced and novice L2 researchers... a classic in the making... will shape the agenda of future L2 pragmatics studies."
- System
"a significant contribution to the L2 pragmatics literature... an up-to-date comprehensive review... valuable and stimulating..."
- Multilingua
"one of the latest in the excellent Oxford Applied Linguistics series, which draws on current research in the disciplines underpinning language teaching and so provides a strong theoretical base for our practice... a comprehensive overview of interlanguage pragmatics... As a thorough introduction to the field, it serves as an excellent starting point..."
- IATEFL Voices
Second language pragmatics: an introduction
Disciplinary domain and history
Theoretical models of pragmatics learning and development
Research methods in L2 pragmatics
What learners have in common: pragmatic development
What differentiates learners: individual characteristics
Contexts in pragmatic development
Teaching and assessing L2 pragmatics
L2 pragmatics and globalization
Conclusion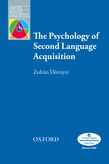 Home to the most innovative studies in its field, the Oxford Applied Linguistics series furthers research in English teaching and learning, and provides strong foundations for language pedagogy.