The Multilingual Instructor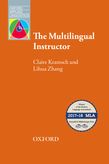 The Multilingual Instructor
What foreign language teachers say about their experience and why it matters
Claire Kramsch and Lihua Zhang

Winner of the Modern Language Association's Kenneth W. Mildenberger Prize
Claire Kramsch and Lihua Zhang use an ecological approach and a complexity thought model to examine the identities, experiences, and practices of foreign language teachers as native or non-native speakers, multilingual instructors, and professional educators. What is their sense of legitimacy? How do they bridge the historical and cultural gaps between them and their students? What stories do they share in the classroom? Which do they not share? How do they view their ethical responsibility?
ISBN:

978-0-19-421737-8

Pages:

264

Binding: Paperback
Dimensions: 234x156 mm
"In this landmark publication, Kramsch and Zhang show us the challenges facing the multilingual instructor and the importance of understanding their experiences in order to improve the quality of teaching and learning as transformative practices. The ecological framework provides a very useful model for future studies, while the attention to the ethical role of the multilingual instructor is a timely reminder to us all".
- Li Wei, Chair of Applied Linguistics, UCL Institute of Education

1. From the native/non-native to the multilingual instructor
2. Researching the multilingual instructor
3. The legitimacy gap: institutional challenges
4. The historical gap: narrative challenges
5. The historical gap: narrative erasures
6. The educational gap: ethical challenges
7. Bridging the historical gap in the German classroom
8. Bridging the educational gap in the Chinese classroom
9. The multilingual instructor in an ecological perspective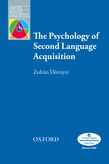 Home to the most innovative studies in its field, the Oxford Applied Linguistics series furthers research in English teaching and learning, and provides strong foundations for language pedagogy.