Defining Issues in English Language Teaching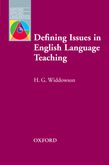 Defining Issues in English Language Teaching
This book goes back to basics by investigating fundamental assumptions about the way English should be defined and taught as a school subject. It looks at different attitudes to English, and developments in its description, and it critically examines current proposals for the specification of course content and classroom methodology, with particular reference to ideas about authenticity and task-based learning.
ISBN:

978-0-19-437445-3

Pages:

208

Binding: Paperback
Dimensions: 233x154 mm
The series attracts single or co-authored volumes from authors researching at the cutting edge of this dynamic field of interdisciplinary enquiry. The titles range from books that make such developments accessible to the non-specialist reader to those which explore in depth their relevance for the way language is to be conceived as a subject, and how courses and classroom activities are to be designed. As such, these books not only extend the field of applied linguistics itself and lend an additional significance to its enquiries, but also provide an indispensable professional foundation for language pedagogy and its practice.
The scope of the series includes:
second language acquisition
bilingualism and multi/plurilingualism
language pedagogy and teacher education
testing and assessment
language planning and policy
language internationalization
technology-mediated communication
discourse-, conversation-, and contrastive-analysis
pragmatics
stylistics
lexicography
translation
Preface
Acknowledgements


1 The theory of practice

2 Parameters in language pedagogy

3 Proper words in proper places

4 The ownership of English

5 English as an international language

6 English for specific purposes

7 The scope of linguistic description

8 The appropriate language for learning

9 Pedagogic design

10 Metalanguage and interlanguage

11 Bilingualization and localized learning

12 Taking account of the subject

Conclusion
Bibliography
Index of names
Index

'Not as intimidating as some larger academic works, and is well worth reading simply out of interest and for the sheer pleasure of reading well-written and reasoned argument.'
'I found the entire book both interesting and informative.'
- Kaithe Green, TEFL.net. Feb 2005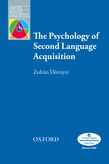 Home to the most innovative studies in its field, the Oxford Applied Linguistics series furthers research in English teaching and learning, and provides strong foundations for language pedagogy.