English Medium Instruction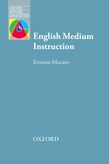 English Medium Instruction
Content and language in policy and practice
Ernesto Macaro
Against a backdrop of theory, policy documents, and examples of practice, this book weaves together research in both secondary and tertiary education, with a particular focus on the key stakeholders involved in EMI: the teachers and the students.

Whilst acknowledging that the momentum of EMI is unlikely to be diminished, and identifying its potential benefits, the author raises questions about the ways it has been introduced and developed and explores how we can arrive at a true cost-benefit analysis of its future impact.
ISBN:

978-0-19-440396-2

Pages:

344

Binding: Paperback
Dimensions: 234x156 mm
"This state-of-the-art monograph presents a wide-ranging, multi-perspectival yet coherent overview of research, policy, and practice of English Medium Instruction around the globe. It gives a thorough, in-depth, and thought-provoking treatment of an educational phenomenon that is spreading on an unprecedented scale."
- Guangwei Hu, National Institute of Education, Singapore

Introduction: Growth and controversies in English Medium Instruction

1. Defining EMI
2. Language policies and EMI
3. The key participants in EMI: The teachers' perspective
4. The key participants in EMI: Students' perceptions and motivations
5. Which English in EMI? Which teachers?
6. The cost-benefits of EMI
7. Interaction in the EMI classroom
8. The changing roles of teachers in EMI
9. Learner strategies in EMI
10. Conclusions: A thematic approach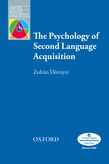 Home to the most innovative studies in its field, the Oxford Applied Linguistics series furthers research in English teaching and learning, and provides strong foundations for language pedagogy.