Resisting Linguistic Imperialism in English Teaching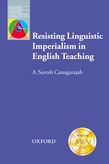 Resisting Linguistic Imperialism in English Teaching

Winner of the MLA Mina P Shaughnessy Prize
Shortlisted
This book describes the creative strategies employed by teachers and students in periphery communities in order to use the English language in a manner that suits their needs while subtly resisting the linguistic imperialism that many scholars have identified as the consequence of the global ELT enterprise. After developing trends and ideas from those oppositional strategies, the book goes on to outline elements of a critical pedagogy suitable for ELT in formerly colonized communities.

As the English language continues to spread globally, this book will be essential reading for English teachers and applied linguists wishing to understand the ideological challenges in the periphery. Curriculum planners and policy makers will also find it a necessary aid to exploring the pedagogical alternatives.
ISBN:

978-0-19-442154-6

Pages:

224

Binding: Paperback
Dimensions: 234x156 mm
The series attracts single or co-authored volumes from authors researching at the cutting edge of this dynamic field of interdisciplinary enquiry. The titles range from books that make such developments accessible to the non-specialist reader to those which explore in depth their relevance for the way language is to be conceived as a subject, and how courses and classroom activities are to be designed. As such, these books not only extend the field of applied linguistics itself and lend an additional significance to its enquiries, but also provide an indispensable professional foundation for language pedagogy and its practice.
The scope of the series includes:
second language acquisition
bilingualism and multi/plurilingualism
language pedagogy and teacher education
testing and assessment
language planning and policy
language internationalization
technology-mediated communication
discourse-, conversation-, and contrastive-analysis
pragmatics
stylistics
lexicography
translation
Acknowledgments
Preface
Introduction

1 Adopting a critical perspective on pedagogy

2 Challenges in researching resistance

3 Resistance to English in historical perspective

4 Conflicting curricula: interrogating student opposition

5 Competing pedagogies: understanding teacher opposition

6 Clashing codes: negotiating classroom interaction

7 Contrasting literacies: appropriating academic texts

8 The politics and pedagogy of appropriating discourses

Bibliography
Index

'... an outstanding, complex, and path-breaking book, with clear and comprehensive contextualisation of both its theoretical perspectives and its research methodology.'
- BAAL Book Prize Panel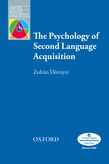 Home to the most innovative studies in its field, the Oxford Applied Linguistics series furthers research in English teaching and learning, and provides strong foundations for language pedagogy.