Sociocultural Theory and Second Language Learning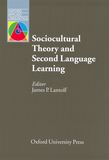 Sociocultural Theory and Second Language Learning
Editor: James P Lantolf
This book represents a major statement of the current research being conducted on the learning of second languages from a sociocultural perspective. The book is divided into a theoretical and an empirical part. Specific topics covered include: learning and teaching languages in the zone of proximal development; L1 mediation in the acquisition of L2 grammar; sociocultural theory as a theory of second language learning; gestural mediation in a second language; and constructing a self through a second language.
ISBN:

978-0-19-442160-7

Pages:

304

Binding: Paperback
Dimensions: 234x156 mm
The series attracts single or co-authored volumes from authors researching at the cutting edge of this dynamic field of interdisciplinary enquiry. The titles range from books that make such developments accessible to the non-specialist reader to those which explore in depth their relevance for the way language is to be conceived as a subject, and how courses and classroom activities are to be designed. As such, these books not only extend the field of applied linguistics itself and lend an additional significance to its enquiries, but also provide an indispensable professional foundation for language pedagogy and its practice.
The scope of the series includes:
second language acquisition
bilingualism and multi/plurilingualism
language pedagogy and teacher education
testing and assessment
language planning and policy
language internationalization
technology-mediated communication
discourse-, conversation-, and contrastive-analysis
pragmatics
stylistics
lexicography
translation
Introducing sociocultural theory

1 Sociocultural contributions to understanding the foreign and second language classroom

2 Rethinking interaction in SLA: Developmentally appropriate assistance in the zone of proximal development and the acquisition of L2 grammar

3 Subjects speak out: How learners position themselves in a psycholinguistic task

4 The output hypothesis and beyond: Mediating acquisition through collaborative dialogue

5 Playfulness as mediation in communicative language teaching in a Vietnamese classroom

6 Social discursive constructions of self in L2 learning

7 Second language learning as participation and the (re)construction of selves

8 Side affects: The strategic development of professional satisfaction

9 The appropriation of gestures of the abstract by L2 learners

10 Second language acquisition theory and the truth(s) about relativity

11 From input to affordance: Social-interactive learning from an ecological perspective
Bibliography
Index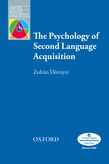 Home to the most innovative studies in its field, the Oxford Applied Linguistics series furthers research in English teaching and learning, and provides strong foundations for language pedagogy.