Sociocultural Theory and the Genesis of Second Language Development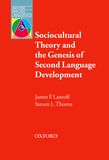 Sociocultural Theory and the Genesis of Second Language Development
James P Lantolf and Steven L Thorne
Integrates theory, research, and practice on the learning of second and foreign languages as informed by sociocultural and activity theory. It familiarizes students, teachers, and other researchers who do not work within the theory with its principal claims and constructs in particular as they relate to second language research. The book also describes and illustrates the use of activity theory to support practical and conceptual innovations in second language education.
ISBN:

978-0-19-442181-2

Pages:

416

Binding: Paperback
Dimensions: 234x156 mm
The series attracts single or co-authored volumes from authors researching at the cutting edge of this dynamic field of interdisciplinary enquiry. The titles range from books that make such developments accessible to the non-specialist reader to those which explore in depth their relevance for the way language is to be conceived as a subject, and how courses and classroom activities are to be designed. As such, these books not only extend the field of applied linguistics itself and lend an additional significance to its enquiries, but also provide an indispensable professional foundation for language pedagogy and its practice.
The scope of the series includes:
second language acquisition
bilingualism and multi/plurilingualism
language pedagogy and teacher education
testing and assessment
language planning and policy
language internationalization
technology-mediated communication
discourse-, conversation-, and contrastive-analysis
pragmatics
stylistics
lexicography
translation
'In short, whilst this is not a light or easy read, it is a highly rewarding one as this book is most likely to shape SLA research in many years to come.'
- Peter I. De Costa, Modern Languages Journal Nov 07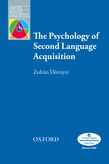 Home to the most innovative studies in its field, the Oxford Applied Linguistics series furthers research in English teaching and learning, and provides strong foundations for language pedagogy.