English as a Lingua Franca: Attitude and Identity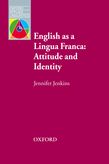 English as a Lingua Franca: Attitude and Identity
From the perspective of the speakers themselves, this is the first book to explore attitudes towards ELF in general and ELF accents in particular, their effects on ELF speakers' identities, and ways in which the problems can be addressed in teacher education, English language testing, and ELT materials.
ISBN:

978-0-19-442237-6

Pages:

296

Binding: Paperback
Dimensions: 234x156 mm
Based on extensive research conducted among teachers in Europe, East Asia, and Latin America.
Examines the role of standard language ideology in the formation of ELF attitudes.
Critiques current ELT practices and SLA research perspectives.
Demonstrates links between ELF accent attitudes and ELF identities.
Includes suggestions for making ELT pedagogy, materials, testing, and teacher education more relevant.
The series attracts single or co-authored volumes from authors researching at the cutting edge of this dynamic field of interdisciplinary enquiry. The titles range from books that make such developments accessible to the non-specialist reader to those which explore in depth their relevance for the way language is to be conceived as a subject, and how courses and classroom activities are to be designed. As such, these books not only extend the field of applied linguistics itself and lend an additional significance to its enquiries, but also provide an indispensable professional foundation for language pedagogy and its practice.
The scope of the series includes:
second language acquisition
bilingualism and multi/plurilingualism
language pedagogy and teacher education
testing and assessment
language planning and policy
language internationalization
technology-mediated communication
discourse-, conversation-, and contrastive-analysis
pragmatics
stylistics
lexicography
translation
'...if you have any interest ... in the future of English and English education it is essential reading.'
- Darren Elliott, TEFL.net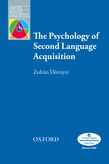 Home to the most innovative studies in its field, the Oxford Applied Linguistics series furthers research in English teaching and learning, and provides strong foundations for language pedagogy.