Complex Systems and Applied Linguistics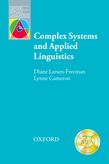 Complex Systems and Applied Linguistics
Diane Larsen-Freeman and Lynne Cameron

Winner
MLA Kenneth W. Mildenberger Prize

Judges' comments:
"...the thinking behind the work is innovative, and the scholarship is impressive. The book should stimulate substantial debate as it forces readers to reconsider some cherished beliefs."
Introduces key concepts in complex systems theory to readers concerned with language, its acquisition, and its use.

Complex Systems and Applied Linguistics demonstrates the applicability and usefulness of these concepts to a range of areas in applied linguistics including second language development, language teaching, and discourse analysis. It concludes with a chapter that inventories suitable approaches to research investigations.
ISBN:

978-0-19-442244-4

Pages:

304

Binding: Paperback
Dimensions: 234x156 mm
Accessible introduction to rapidly growing field of interest across disciplines.
Explains key constructs: chaos; complexity; dynamic systems; emergence etc.
Demonstrates applications to areas of applied linguistics.
Illustrates how complex systems thinking can challenge established ideas.
Discusses implications for theory, research, and practice.
The series attracts single or co-authored volumes from authors researching at the cutting edge of this dynamic field of interdisciplinary enquiry. The titles range from books that make such developments accessible to the non-specialist reader to those which explore in depth their relevance for the way language is to be conceived as a subject, and how courses and classroom activities are to be designed. As such, these books not only extend the field of applied linguistics itself and lend an additional significance to its enquiries, but also provide an indispensable professional foundation for language pedagogy and its practice.
The scope of the series includes:
second language acquisition
bilingualism and multi/plurilingualism
language pedagogy and teacher education
testing and assessment
language planning and policy
language internationalization
technology-mediated communication
discourse-, conversation-, and contrastive-analysis
pragmatics
stylistics
lexicography
translation
'For those interested in systematic and novel ways to view and understand language, Complex Systems and Applied Linguistics is a stimulating read.'Benjamin J. White, Michigan State University
- Benjamin J. White, Michigan State University
'This book contains something for every researcher in applied linguistics and classroom language practice alike.'
- Journal of the IATEFL SIG
'...valuable and indeed stimulating reading for graduate students and researchers alike.'
- ScienceDirect
'...this book succeeds in putting forward the complexity theory as a potentially interesting avenue of research in Applied Linguistics in an engaging and readable way which grants the lay-person an insight into this fascinating branch of science.'
- Mark Bain, TEFL.net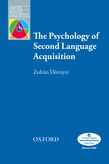 Home to the most innovative studies in its field, the Oxford Applied Linguistics series furthers research in English teaching and learning, and provides strong foundations for language pedagogy.