Conversational Interaction in Second Language Acquisition e-Book for Kindle
Conversational Interaction in Second Language Acquisition e-Book for Kindle
This edited collection of empirical studies provides insights into a wide variety of issues at the center of current research into the relationship between conversational interaction and second language learning outcomes.
Examines the benefits of interactional feedback, discusses the source of the positive outcomes of recasts and negotiations.
Explores the relationship between learners' perceptions and learning.
Investigates individual differences such as working memory and gender, and considers both social and cognitive factors in interaction-driven development.
The series attracts single or co-authored volumes from authors researching at the cutting edge of this dynamic field of interdisciplinary enquiry. The titles range from books that make such developments accessible to the non-specialist reader to those which explore in depth their relevance for the way language is to be conceived as a subject, and how courses and classroom activities are to be designed. As such, these books not only extend the field of applied linguistics itself and lend an additional significance to its enquiries, but also provide an indispensable professional foundation for language pedagogy and its practice.
The scope of the series includes:
second language acquisition
bilingualism and multi/plurilingualism
language pedagogy and teacher education
testing and assessment
language planning and policy
language internationalization
technology-mediated communication
discourse-, conversation-, and contrastive-analysis
pragmatics
stylistics
lexicography
translation
Introduction
Part 1 Participants and learning opportunities in interaction
1
Do second language learners benefit from interacting with each other?
Rebecca Adams
2
Interaction in the L2 classroom: does gender influence learning opportunities?
Lauren Ross-Feldman
3
Perceptions about interactional feedback: differences between heritage language learners and non-heritage language learners.
Susan M. Gass and Kim Lewis
4
Alphabetic print literacy and oral language processing in SLA
Elaine Tarone and Martha Bigelow
5
Modified output of Japanese EFL learners: variable effects of interlocutor versus feedback types
Masatoshi Sato and Roy Lyster
6
Riddles and puns in the ESL classroom: adults talk to learn
Agustina Tocalli-Beller and Merrill Swain
Part 2 Feedback, learner-internal processes, and perceptions in interaction
7
How effective are recasts? The role of attention, memory, and analytical ability
Pavel Trovimovich, Ahlem Ammar, and Elizabeth Gatbonton
8
Textually enhanced recasts, learner awareness, and L2 outcomes in synchronous computer-mediated interaction
Rebecca Sachs and Bo-Ram Suh
9
From CALL to face-to-face interaction: the effect of computer-delivered recasts and working memory on L2 development
Nuria Sagarra
10
Recasts, learners' interpretations, and L2 development
Takako Egi
11
Recasts in communicative EFL classes: do teacher intent and learner interpretation overlap?
Ji-Hyun Kim and ZhaoHong Han
Part 3 Interactional feedback and linguistic development
12
The effects of corrective feedback, language aptitude, and learner attitudes on the acquisition of English articles
Younghee Sheen
13
Interactional feedback and the emergence of simple past activity verbs in L2 English
Kim McDonough
14
The differential effects of corrective feedback on two grammatical structures
Rod Ellis
15
Measuring the effects of oral corrective feedback on L2 knowledge
Shawn Loewen and Toshiyo Nabei
16
Interaction-driven L2 learning: characterizing linguistic development
K. Seon Jeon
Epilogue
17
Interaction research in SLA: a meta-analysis and research synthesis
Alison Mackey and Jaemyung Goo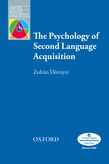 Home to the most innovative studies in its field, the Oxford Applied Linguistics series furthers research in English teaching and learning, and provides strong foundations for language pedagogy.