Ethnographic Perspectives on Academic Writing e-Book Ethnographic Perspectives On Academic Writing Epub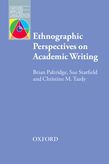 Ethnographic Perspectives on Academic Writing e-Book Ethnographic Perspectives On Academic Writing Epub
Brian Paltridge, Sue Starfield and Christine M. Tardy
This book argues that adopting ethnographically oriented perspectives on research into academic writing is a valuable means of deepening understanding of the social influences on language use and individuals' experiences in academic writing contexts, helping to gain insider views of writers' experiences, writing practices, and the contexts in which academic texts are produced and assessed.
Paltridge, Starfield and Tardy examine a range of academic writing contexts including undergraduate writing, postgraduate writing, writing for publication, and the learning and teaching of academic writing
The authors draw together work in the areas of English for academic purposes, academic literacies, genre studies, and writing in the disciplines
The series attracts single or co-authored volumes from authors researching at the cutting edge of this dynamic field of interdisciplinary enquiry. The titles range from books that make such developments accessible to the non-specialist reader to those which explore in depth their relevance for the way language is to be conceived as a subject, and how courses and classroom activities are to be designed. As such, these books not only extend the field of applied linguistics itself and lend an additional significance to its enquiries, but also provide an indispensable professional foundation for language pedagogy and its practice.
The scope of the series includes:
second language acquisition
bilingualism and multi/plurilingualism
language pedagogy and teacher education
testing and assessment
language planning and policy
language internationalization
technology-mediated communication
discourse-, conversation-, and contrastive-analysis
pragmatics
stylistics
lexicography
translation
Ethnographic Perspectives on Academic Writing makes a convincing case for the immersion of researchers in carefully described, particular academic cultures and contexts. Importantly, it also looks beyond the lens of textual analysis to the social, political, culture-community, and activity-oriented nature of academic writing. Novice and experienced researchers alike will benefit from the authors' arguments and evidence as to why it is important to conduct ethnographically-oriented studies of academic writing.'
- Christine Pearson Casanave, Temple University, Japan Campus; Middlebury Institute of International Studies at Monterey
"Reader-friendly from the start... It is divided into eight chapters, all worthy of attention, saving us hours of library searching and even more hours of reading... If you are new to research and wish to investigate academic writing, this book is a must-read."
- Modern English Teacher
"a much needed volume... one of the important contributions of this volume is the bridging between research and teaching... a valuable resource... All three authors are leaders of the field who have already paved significant paths in academic writing research employing such perspectives. From graduate students to seasoned researchers and educators, Ethnographic Perspectives on Academic Writing is highly recommended."
- Journal of Second Language Writing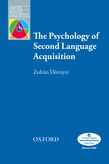 Home to the most innovative studies in its field, the Oxford Applied Linguistics series furthers research in English teaching and learning, and provides strong foundations for language pedagogy.