The Multilingual Subject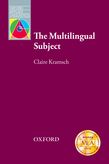 The Multilingual Subject

Winner MLA Kenneth W. Mildenberger Prize 2009
By drawing on multiple examples of real-world language learning situations, this book explores the subjective aspects of the language learning experience. The author encourages readers to consider language learning from new, diverse, and unique perspectives. The book analyses data from a variety of sources, including language memoirs, online data from language learners in chat rooms, and text messaging exchanges. In the analysis of this data, the book looks at the relationship between symbolic form and the development of a multilingual subjectivity; links with memory, emotion, and the imagination; and the implications for language teaching pedagogy.
ISBN:

978-0-19-442478-3

Pages:

248

Binding: Paperback
Dimensions: 234x156 mm
The series attracts single or co-authored volumes from authors researching at the cutting edge of this dynamic field of interdisciplinary enquiry. The titles range from books that make such developments accessible to the non-specialist reader to those which explore in depth their relevance for the way language is to be conceived as a subject, and how courses and classroom activities are to be designed. As such, these books not only extend the field of applied linguistics itself and lend an additional significance to its enquiries, but also provide an indispensable professional foundation for language pedagogy and its practice.
The scope of the series includes:
second language acquisition
bilingualism and multi/plurilingualism
language pedagogy and teacher education
testing and assessment
language planning and policy
language internationalization
technology-mediated communication
discourse-, conversation-, and contrastive-analysis
pragmatics
stylistics
lexicography
translation
Kramsch vividly demonstrates how multilingual subjects deploy symbolic forms to craft the self and to construct subjective realities.
- Houxiang Li, Applied Linguistics |d 05/12/2010
the book offers some rich and insightful examples of the multilingual condition. The literary extracts are well chosen and interestingly analysed. The student extracts and interactions are similarly interesting in themselves.
- Alan Maley, ELT Journal |d 01/07/2012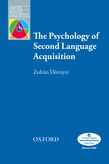 Home to the most innovative studies in its field, the Oxford Applied Linguistics series furthers research in English teaching and learning, and provides strong foundations for language pedagogy.