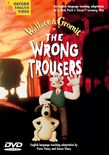 Hello
You can visit our worldwide website for our globally available teaching resources, or visit our local website for for products, events and materials for your area.
Please choose below:
The Wrong Trousers™
Original story: Nick Park and Bob Baker
ELT adaptation: Peter Viney and Karen Viney
A superbly animated comic adventure that appeals to all ages.
An English language teaching adaptation of Nick Park's Oscar®-winning animated film, The Wrong Trousers™. The video has a broad appeal that will be a motivating force in any classroom.
The gripping storyline is combined with ingenious humour and brilliant characterization. The two main characters, Wallace and Gromit™, find themselves tangled up in the Penguin's cunning plot to steal a fabulous diamond.
The video is organized into six manageable episodes, which present specific grammar points, functional language and vocabulary.
The original dialogue has been simplified, and additional narration gives learners further language input.
The video is supported by a Student's Book and a Teacher's Book.
For The Wrong Trousers™
(1)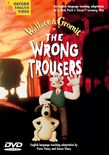 Wallace and Gromit
978-0-19-459007-5
Join Wallace and his dog Gromit on their adventures. These adaptations of the wo...