This is Britain, Level 1 DVD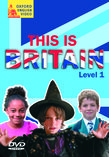 This is Britain, Level 1 DVD
A topic-led video about British culture for 10-11 year olds.
The first of two British culture-based videos.
Can accompany any course at this level or stand alone.
Specifically written for primary students.
Four ten-minute units filmed on location.
On-screen review of key vocabulary and language at the end of each unit.
The video presents British culture in the form of family life and traditional festivals in a lively and entertaining way, so students can make comparisons with their own experience.