Playtime B iTools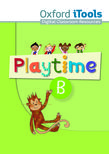 Playtime B iTools
Stories, DVD and play- start to learn real-life English the Playtime way!
Claire Selby (illustrations Annabel Tempest)
The fun, new three-level British English course with fully integrated DVD motivating pre-schoolers to learn through memorable stories and songs.
This great new series focuses on the real-life pre-school environment, a familiar setting for little ones to start learning English through other subjects.

Monkey (the puppet) starts every lesson in a fun way and the children's enthusiasm for English builds from the beginning.

Through easy-to-follow classroom routines for each lesson, children also learn to develop good habits and good behaviour.

Playtime's lively stories present natural language in familiar contexts - using integrated DVD as well.
This iTools DVD ROM is great for classroom use, either using an interactive whiteboard or a PC and a projector. All your resources in one place!

Class Book pages

All the flashcards

SMART Notebook templates for every unit

Make-your-own flipcharts section

Picture dictionary

All the songs from the Class Book

Interactive games

1. The Playtime Class Book appeals to all styles of learning, embodied in the four playful, child characters - Rocket, Twig, Star and Melody.

2. The teacher is provided with the widest variety of flexible components in a pre school course, including DVDs

3. Children are introduced to each story by a friendly monkey puppet who guides their repeated contact with the language through memorable songs, story songs, digital classroom resources and craft-based activities.

4. The cross-curricular approach helps learners explore their first experience of English through other subjects and see English in a real-life British context through photographs and DVD

5. Parents and learners are supported by a website with additional practice and content - building on a child's learning in school at home
Sample screenshot, Playtime B iTools, page 23

Interactive whiteboards support many different learning styles, motivating students and promoting a positive attitude towards learning.

Playtime offers innovative digital teaching tools conceived to help you get the most out of both your course book and your interactive whiteboard, with relevant and exciting content to meet your students' needs.

Also, if you don't have an IWB in your classroom, take into account that all Playtime materials for IWB can also be used with a PC and a projector.

Playtime makes learning English through other subjects fun by focusing on real-life pre-school.