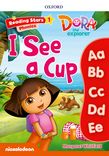 Hello
You can visit our worldwide website for our globally available teaching resources, or visit our local website for for products, events and materials for your area.
Please choose below:
Reading Stars Level 1
First steps to reading success for very young learners of English
Three-level graded reading series with story readers and phonics story readers for very young learners of English.
This engaging series of readers features popular characters from the Nickelodeon television series Dora the Explorer, Blaze and the Monster Machines and Team Umizoomi and will support children's first steps to reading success.
Each level has story readers, which focus on common words and phrases, and phonics story readers, which introduce children to English letters and sounds.
Story readers include a range of simple structures and everyday vocabulary and can be used to introduce language in context or to review language children have already learnt in an enjoyable way.
Reading Stars has been designed to guide very young children from their first experience of stories in English towards the goal of reading independently. There are three levels and each level includes story readers and phonics readers.
Language is carefully graded and the amount of text increases gradually across the three levels. Follow-up activities help children to develop a range of reading skills, including phonics skills. There are also links to other curriculum areas such as Science, Technology, Engineering and Math so that children's English language learning is integrated with their broader educational development.
The Reading Stars series includes:
Story books with a picture dictionary and follow-up language and comprehension activities.
Phonics story books with a story, picture dictionary and follow-up phonics activities.
Available to download (from inside cover):
Audio of the story, picture dictionary and audio for phonics activities.
Teacher's Guide with Photocopiable resources.
Parent's Guide with Printable resources.
Parent's Videos providing support and guidance.
For Reading Stars Level 1
(15)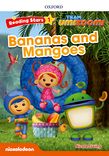 Bananas and Mangoes
978-0-19-467308-2
Team Umizoomi help at the zoo!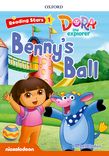 Benny's Ball
978-0-19-467246-7
Where's Benny's ball? Can Dora and Boots find it?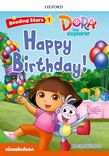 Happy Birthday!
978-0-19-467249-8
Can Dora, Boots, and Dora's daddy get to the birthday party?