Show and Tell Level 2 Student Book Classroom Presentation Tool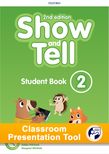 Show and Tell Level 2 Student Book Classroom Presentation Tool
Second Edition
The 2nd edition of Show and Tell builds on its tried and tested methodology, developing 21st Century Skills in critical thinking, communication, collaboration and creativity, to prepare students for future success both inside and outside the classroom.
The Show and Tell Student Book is packed full of interesting content to keep students of all abilities fully engaged and motivated.

Bring your coursebook to life in the classroom with the Classroom Presentation Tool. Simply present your learning resources on screen for highly engaging lessons including audio, video and interactive activities.
Unique methodology which combines a native-speaker approach of inquiry-based learning with a controlled grammar and skills syllabus.
Big Questions, linked to children's real lives, form the basis of every unit and tap into learner's curiosity.
NEW Hello Unit and It's a Wrap sections in the Student Book ensure an easier transition through Kindergarten.
NEW Teaching Strategies for Show and Tell videos linked to the Teacher's Guide give a practical guide for different elements of the course.
NEW Classroom Presentation Tool: deliver heads-up lessons. Class audio, video and answer keys, as well as teaching notes, are available online or offline, and updated across all devices.
NEW Teacher's Resource Center: access to a variety of Show and Tell classroom materials all in one place.
NEW Lingokids™ home learning app extends students' contact with English beyond the classroom.
Enhanced and improved Numeracy Book aligned to preschool curriculum and NEW Numeracy Book and Literacy Book for Level 1.
Show and Tell recognizes that young learners need preparation for a world in which 21st-century skills such as communication, critical thinking, creativity and collaboration will form a vital part of their future.

The tried and trusted Show and Tell methodology prepares students for school readiness and future success. Different learning styles are accommodated by the great variety of activities and children are able to produce language at different levels according to their ability.

The early literacy material contains stories that can be read and re-read for pleasure, activities to develop early reading and writing skills, and a systematic phonics syllabus. The development of fine motor skills is gradual and flexible, in keeping with the differing needs of individual children. The units contain stories, games, songs and chants, craftwork, and simple experiments. Problem-solving activities encourage children to think critically and creatively. Values lessons teach children how to behave both inside and outside the classroom. Stories, hand-eye coordination practice and letter formation activities lead to reading and writing simple sentences. The games promote collaboration and opportunities for natural peer-to-peer communication.

The material is divided into nine thematic units, each posing the Big Question. The question is explored in different ways to build and broaden children's understanding, culminating in a project that integrates their learning and provides a real sense of achievement.
The licence period for this product is perpetual.
The use of this product is subject to the Oxford Learners Bookshelf
terms and conditions
.

A three-level pre-primary course that gives teachers the tools to develop kindergarten children's 21st century skills.