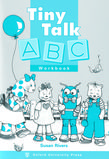 Hello
You can visit our worldwide website for our globally available teaching resources, or visit our local website for for products, events and materials for your area.
Please choose below:
Tiny Talk ABC Workbook
Susan Rivers
A simple introduction to the alphabet and basic letter sounds.
Workbook
Cassette (British English)
The ABC Workbook features 26 two-page spreads, one for each letter of the alphabet.
It can be used alongside the Tiny Talk course or independently.
The activities have been specially written for 3-6 year olds.
The accompanying Cassette provides basic listening and pronunciation practice for all 26 letters and key sounds.
The Cassettes are available in American and British English versions.