Q Skills for Success 2 iTools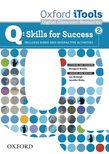 Q Skills for Success 2 iTools
Q: Skills for Success is grounded in teaching theory as well as real-world classroom practice, making it the most learner-centered series available.
Q: Skills for Success Level 2 includes materials for both the Reading and Writing and Listening and Speaking Strands featured in all six levels of the series. Clearly identified learning outcomes focus students on the goal of instruction, while thought-provoking unit questions provide a critical thinking framework. Explicit skills instruction builds student language proficiency and is reinforced by Q Online Practice, which provides 100% new content and practice activities for every unit, Teacher resources include specific notes for each activity, ideas for ensuring student participation, a unit-specific scoring rubric, answer keys and a testing program CD-ROM with customizable tests.
Learning outcomes are clearly stated at the start and end of the units
Critical thinking unit approach encourages students to analyze, synthesize, apply knowledge and develop an individual voice around a topic
Thought-provoking unit questions provide a clear focus for the units
Reading and listening texts explore a range of academic subjects from biology to finance
Explicit learning skills sections help students develop important academic skills such as scanning a text, listening for gist and using a dictionary
Research-based vocabulary program focuses on words from the Academic Word List (AWL) and the Oxford 3000™
Digital Workbook includes substantial homework practice, reference and tests with simple LMS to help teachers assign and grade work
Q iTools is an interactive classroom presentation tool for use with an interactive whiteboard or computer with projector.
Each level of Q iTools features the Reading and Writing Student Book and the Listening and Speaking Student Book.
Video and audio are fully integrated. Video for every unit introduces the unit theme and activates prior knowledge. Each video is accompanied by one pre-viewing and one post-viewing activity. Video resources include teaching notes on how to use video in the English-language classroom and a video transcript for each unit (available in PDF and Word format) with unfamiliar words footnoted and defined.
As well as video, Q iTools features a bank of time-saving and useful resources. These include grammar worksheets (two per unit), a PowerPoint presentation for each unit, a Unit Test for each unit, and a Midterm Test and Final Test for each Student Book.
Test Preparation worksheets and answer keys for each unit help students to prepare for standardized tests.
Leveled unit assignments (one lower-level unit assignment and one higher-level unit assignment) for each unit allow teachers to assign one project task at different levels to suit the mixed ability classroom.
Finally, Q iTools also includes a list of suggested Oxford readers to promote extensive reading alongside Q.
Watch a walkthrough of Q iTools
to find out more about how using iTools can benefit your class.