Select Readings Upper Intermediate iTools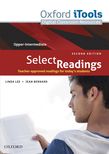 Select Readings Upper Intermediate iTools
Second Edition
A teacher-approved American English reading skills series for upper secondary and university students.
Select Readings Second Edition contains a range of high interest reading texts approved by experienced teachers.

This four-level American English reading course uses carefully selected reading texts to help students read effectively. Exercises before and after reading practise reading skills, check comprehension and build vocabulary.

Select Readings also helps students prepare for exams, with the new Testing Program CD-ROM featuring tests in the style of TOEFL®, TOEIC®, IELTS and GEPT exams.
Even more reading – four new chapters in each book, 50% more reading content in every unit
All new Elementary level completes four-level curriculum
Reading texts approved by experienced teachers to ensure learner success
Mini Oxford American Dictionary builds academic vocabulary skills
Downloadable audio files for all main reading texts so students can learn on the go
Testing Program CD-ROM simulates TOEFL®, TOEIC®, IELTS and GEPT exams
Oxford iTools CD-ROM provides digital classroom resources ready for instant use
Select Readings Second Edition
includes more reading than ever before. This new edition of the successful reading skills course features a brand new Elementary level, four new chapters in each book and 50% more reading content in every chapter. Each reading text is carefully selected to meet students' needs, ensuring that the material is engaging, dynamic, topically relevant, and level appropriate.
Each chapter contains clear goals, focusing on developing a specific reading skill, such as scanning for details and identifying the main topic. The Building Vocabulary section focuses on word analysis skills such as learning word forms and understanding phrasal verbs. Words to Remember at the end of each chapter allow students to review key vocabulary.
Additional material includes the new Mini Oxford American Dictionary at the back of the book, to encourage understanding and develop vocabulary. Culture and language notes expand students' knowledge of the world around them.
Digital resources including iTools, the Testing Program CD-ROM and downloadable audio files are great new features to supplement your teaching. Audio files for the main reading texts are available at the Audio Download Center. Try it out:
www.oup.com/elt/selectreadings2e

The iTools CD-ROM features each Student Book on screen, with embedded audio, answer keys, and quick access to additional content. Use iTools on your interactive whiteboard or data projector to add interest to lessons and reduce preparation time.

Teacher approved readings for today's students