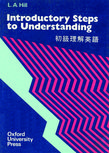 Hello
You can visit our worldwide website for our globally available teaching resources, or visit our local website for for products, events and materials for your area.
Please choose below:
Steps to Understanding Advanced
L A Hill
Each book in the series contains 30 carefully graded stories to provide training in reading and listening comprehension.
The stories are accompanied by a variety of activities, e.g. true/false questions as well as 'thinking' questions that require the student to work more creatively.
Each book contains a complete wordlist.
A Cassette accompanies each level and contains both the stories and questions.
The Introductory level uses 750 headwords; the Elementary level 1,000 headwords; the Intermediate level 1,500 headwords; and the Advanced level 2,075 headwords.