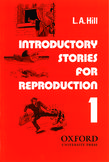 Hello
You can visit our worldwide website for our globally available teaching resources, or visit our local website for for products, events and materials for your area.
Please choose below:
Stories for Reproduction Advanced
L A Hill
The books in these two graded series train students to reproduce material they have listened to or read.
Each book contains short, amusing anecdotes, followed by a set of comprehension questions on the passage. The stories in the second series are followed by both questions and also a variety of other exercises.
Each book contains a complete wordlist at the back.
Cassettes are available for use with all the books.