Thinking about Language Teaching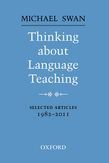 Thinking about Language Teaching
Selected articles 1982-2011
A selection of Michael Swan's best known published articles on the theory and practice of teaching English as a foreign language.
ISBN:

978-0-19-442481-3

Pages:

248

Binding: Paperback
Dimensions: 234x156 mm
Each article in this collection begins with a short introduction by Michael Swan explaining the context in which he originally wrote it. Consequently, the articles not only address topics that remain highly relevant to language teachers today, but also provide a historical perspective on developments within the field.

The collection ends with a small selection of his published satirical pieces.
Contains eighteen academic and pedagogical articles and seven satirical pieces.
Brings Michael Swan's best known and most widely cited articles together in a single book for the first time. This creates a unique and valuable resource both for people already familiar with these articles and for those discovering them through this collection.
Articles were all originally published in leading journals such as Applied Linguistics and the English Language Teaching Journal
All articles are published in their original form, but each one has an introduction by the author written specifically for this book, giving readers a historical and personal perspective on the topics discussed.
Suitable for a wide audience, including teacher trainers, practising and trainee teachers, as well as academics and researchers.
What have been some of the most widely discussed themes and topics in the theory and practice of language teaching over the past thirty years? How much have things really changed during this period?
This collection of articles by Michael Swan offers a uniquely personal view of trends and controversies within the teaching of English as a foreign language. They cover a wide range of topics, including:
the 'Communicative Approach'
the drawbacks of 'one size fits all' solutions
the importance of prioritizing
the dangers of perfectionism
the importance of teaching at least some grammar
the need for various kinds of balance (between form and function, student-directed and teacher-directed work, knowledge and skills, process and product, etc.)
These and other issues are discussed and analysed in a clear, vigorous style by an author who has never been afraid to challenge prevailing opinions and practice.
The book ends with a small collection of published satirical pieces. These show the author's more playful side, while at the same time furthering his broader aim of challenging conventional wisdom.
The reason why I would use so many of these articles with MA studentsand anyone else with a curiosity about what we dois that they deal with big issues and are a joy to read.
- Jeremy Harmer, ELT Journal |d 01/07/15
'The reason I would use..these articles with MA students is that they deal with big issues and are a joy to read. They go to the heart of what we think we do as teachers.'
Jeremy Harmer, ELT Journal Vol 67/2 April 2013
'The collection is a pleasure to read, both for its content and for the quality of the writing (those interested can find more of Michael's writing at his Language and Poetry website referenced below). Novice and experienced teachers alike will find much interest in this collection, in particular, how to bridge the gap between the theory and practice of language teaching. As a practising teacher of French as a foreign language and a researcher in applied linguistics, this volume refreshed and broadened my own knowledge of these areas, and not only provided me with ideas for teaching, but also led me to question what I do in the language classroom, with a view to how I might improve. At the same time, Swan puts into writing what many language teachers instinctively know to be true through their own experiences in the classroom, even where this might contradict the latest theories and methodologies. This endorsement of our instincts and practices from such an erudite and expert scholar is reassuring indeed.'
Kerry J Mullan, RMIT University, July 2013
Published on The Linguist List website,
read the full review
.

Each title in the series is intended to serve both as a basis for training courses and seminars, and as a reference text.